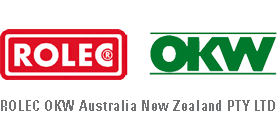 ROLEC and OKW distribution in Australia & New Zealand
Your source for high quality aluminium, stainless steel and plastic enclosures as well as tuning knobs
The new company ROLEC OKW Australia New Zealand Pty Ltd is responsible for sales and distribution
of the complete product range of ROLEC and OKW across the ANZ region.
Search our comprehensive range of products and find your own favourite of electronics enclosures here.
Aluminium enclosures
Stainless steel enclosures
Suspension arm systems
Polyester and ABS enclosures
Processing, accessories,
modifications & special enclosures
www.rolec-enclosures.com.au


Plastic enclosures
Aluminium/Plastic enclosures
IP65, IP66 and IP67 sealed enclosures
Tuning knobs
Accessories
Modifications, finishing
& bespoke enclosures
www.okw.com.au
NEED HELP FINDNG YOUR ENCLOSURE? - CONTACT US ...
ROLEC OKW Australia New Zealand Pty Ltd
Unit 6/29 Coombes Drive
Penrith NSW 2750
Shane Dwight
Tel. +61 2 4722 3388
Fax +61 2 4722 5300
E-mail sales@rolec-okw.com.au